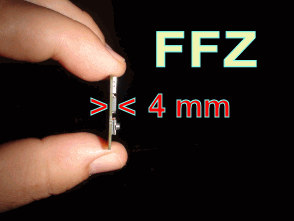 A new model of FFZ roulette computer will be released soon.
FFZ-T roulette computer/device, let me explain why it is the "T" model.
FFZ-T is only 4 mm in height; the picture provided is the real FFZ's board profile view.
It is designed so it can comfortably be placed under the Toe (T), as a complete unit without any additional wires or external components. Since the unit has an onboard clocking switch it can be used for hand clocking or the player can add an external clocking switch to be used. The FF's external switch also uses a smaller connector, to not exceed the height of the device.
The unit can be purchased at any time with R5A software, but the new version will be coming soon. I suggest to preorder it and wait few weeks until is completed and tested. The new program includes a compelling part where the FF and visual mayrulet VB2 (visual prediction) is combined. Such combination lets the player predict the roulette outcome with only two switch presses. Two switch clicks wasn't a typing mistake. It is correct, and with only two clicks the system also includes and calculation for rotor speed change. Playing that way the player doesn't have to watch the wheel as much or need to be extremely focused, therefore using it makes the system very covert to apply.
I found it very pleasant to use. FF-VB2 system doesn't require ball clocking where most mistakes are created. Instead, it lets the ball show us what's up to. Of course, the new software version will have the previous programs for tilted or levelled wheel prediction. There are some changes, but the operation is similar. New, double rotations clocking will be introduced and an indication of the time of particular ball rotation strength during the setup process.